Phil Miller Legacy Update: We need your Support!
We all have many challenges and priorities connected to the Pandemic. Nevertheless, sometimes I find my mind drifting to remembering Phil Miller and his untimely departure from our CHS family
This crisis will end at some point and so I still think long term and how to keep the legacy of Phil alive and to sustain our Hotelie culture. Click YOU NEED TO MEET PHIL MILLER as a reminder of how Phil inspired us all.
Background
There were two funding initiatives created in memory of Phil to further his tireless effort on behalf of the students. They are called The Phil Miller Hotelie for Life Prize and the Phil Miller Legacy. Both of these programs are already launched and supporting deserving students and future Hotelie Ambassadors.
The Phil Miller Hotelie for Life Prize
This special prize is awarded to graduating seniors in the SHA. This year, one senior recipient was selected to receive a $10,000 cash prize. Four Semi-finalists also received a monetary award of $1000 each. Moreover, all finalists are awarded a Life-Time Membership in the Cornell Hotel Society and are asked to serve as ambassadors for CHS as they pursue their respective careers.
Click HOTELIE FOR LIFE for background on awardee,  Chloe Jones and Phil's Legacy initiatives.
The Philippus Miller III Legacy Endowment
This endowment is designed to recognize and celebrate Phil's legacy as a builder of networks and relationships. The purpose is to provide one or more Hotel School students an opportunity to attend one of the several major CHS events held around the world. The grant is intended to offset the costs of travel, lodging and event registration so that recipients can fully engage with alumni and other attendees.
Covid-19 has forced suspension of CHS gatherings for the foreseeable future. However, our successful fundraising to date ensures that monies are available to support these students when in-person events resume.
This year's recipients of the Legacy Award are:
Alice Navadeh, '21
Colette Repisky, '22 
Fundraising to Date
With University matching funds, our initial goal is to raise a total of $250,000 over 5 years for each initiative, so $500,000 overall. Success in this endeavor would endow both programs in perpetuity. We are off to a strong start, having raised over 60% of the necessary monies so far to support these initiatives, which qualify for the 1 for 3 S C Johnson matching funds.
We Still Need your Support!
If you have already contributed to one or both of these initiatives, we thank you!
Since this is a 5-year stretch of fundraising, we urge you to begin or continue your support with a contribution this year.
Click REMEMBER PHIL
Feel free to forward this to friends of Phil and the SHA. We Need to Meet or exceed our goal to support the next generation of Hotelies!
Cheers,
Joe Lavin '75
Phil Miller Legacy Committee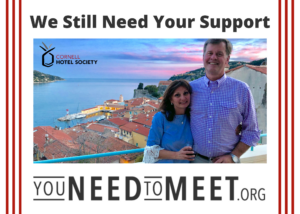 https://cornellhotelsociety.com/wp-content/uploads/2020/12/For-Phil-002.png
1428
2000
Robert Mandelbaum
https://cornellhotelsociety.com/wp-content/uploads/2020/10/CHS-Logo-256x118-1.png
Robert Mandelbaum
2020-12-06 14:22:51
2022-08-11 01:22:49
Phil Miller Legacy Update: We need your Support!