In 2019 the Cornell Hotel Society established the Philippus Miller III '83 Legacy Award.  The award was designed to recognize and celebrate Phil Miller's legacy as a builder of networks and relationships.  For decades Phil was the heart of the Cornell Hotelie for Life® that is the foundation of the Cornell Hotel Society (CHS).  The award is given to students that demonstrate an understanding of the spirit of Phil Miller – the importance of connecting and giving back.
The winners of the award in 2022 were Caleb Trieu '23, Hailey Nelson '23, and Jason Ling '23.  Below we share Jason's story.
About Jason Ling '23
While in high school in Atlanta, Jason was very active in the Future Business Leaders of America organization.  Jason became a statewide leader, and eventually found himself planning several conferences throughout the year.  One of Jason's mentors within Future Business Leaders noticed his talent for planning meetings and encouraged Jason to consider the Nolan Hotel School (SHA) at Cornell.  After some research, Jason quickly learned that Cornell was the best place to go to study hospitality and concluded, "Why not be the best!".
Jason took a tour of Cornell, but he did not have a great experience.  His parents insisted that he visit Ithaca again, and the second time was a charm.  Jason and his family stayed at The Statler Hotel, spoke with several students, and he fell in love with the school.
Upon arrival as a student, Jason was somewhat intimidated by his classmates.  He did not have as strong a hospitality background as others, but that gave him no biases when determining what area of hospitality he would favor over the next four years.  To gain hospitality experience, Jason immediately went to work at The Statler,
Jason credits two professors as having significant impact during his time at Cornell, and development as a person.  Professor Andrew Quagliata (Communications) has helped Jason defined the person he wants to be outside of school, and how to balance his life.  Professor Kasey Tarantino (Advanced Business Modeling and Business Computing) hired Jason as a Teaching Assistant and provided him with an opportunity to connect with his peers and underclassmen.
Jason's summer jobs have been real estate and finance oriented.  He has spent time with Wells Fargo, HREC, and CKH Group.  Outside of the classroom Jason is a member of the Dean's Advisory Board, and has been a member of multiple singing ensembles, including serving as President of the Glee Club his senior year.  Upon graduation, Jason wants to combine his understanding of real estate and passion for ESG values.
One of Jason's first experiences with the Hotelie network was reading an article in Hotelie Magazine. Seeing how important and supportive the Hotelie network is to its members was a major factor that contributed to his decision to attend Cornell versus staying home to attend Georgia Tech.  Jason is considering traveling to the CHS regional event in Vietnam during the fall of 2022, or the CHS regional event in Amsterdam in the spring of 2023.
Picture below:  Jason (left) attends the Cornell Alumni Association of Atlanta new student reception in August of 2022.
* * *
The Cornell Hotel Society and Cornell Hotel Foundation congratulate Caleb, Hailey, and Jason, and welcome them to the Hotelie for Life® network. These interviews were conducted by Robert Mandelbaum '81.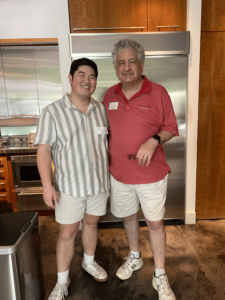 https://cornellhotelsociety.com/wp-content/uploads/2022/09/Jason-Ling-sq-1-e1682786381686.png
200
200
Robert Mandelbaum
https://cornellhotelsociety.com/wp-content/uploads/2020/10/CHS-Logo-256x118-1.png
Robert Mandelbaum
2022-09-12 11:07:05
2023-04-29 16:40:00
2022 Philippus Miller III '83 Legacy Award Winners – Jason Ling '23