2022 Philippus Miller III '83 Legacy Award Winner – Hailey Nelson '23
In 2019 the Cornell Hotel Society established the Philippus Miller III '83 Legacy Award.  The award was designed to recognize and celebrate Phil Miller's legacy as a builder of networks and relationships.  For decades Phil was the heart of the Cornell Hotelie for Life® that is the foundation of the Cornell Hotel Society (CHS).  The award is given to students that demonstrate an understanding of the spirit of Phil Miller – the importance of connecting and giving back.
The winners of the award in 2022 were Caleb Trieu '23, Hailey Nelson '23, and Jason Ling '23.  Below we share Hailey's story.
About Hailey Nelson '23
Despite the fact that Hailey's older brother attended Cornell, she knew nothing about the Nolan Hotel School (SHA).  What she did know was her passion for cooking.
Hailey wanted to pursue a career in food and beverage, so she looked into attending a culinary program after high school.  Knowing Hailey had an entrepreneurial streak in her, her parents recommended that she look at business schools as well.  After Googling "business and food", Cornell appeared as an answer that offered two potential solutions – The Food Industry Management program at The Dyson School, and the Hospitality Management Program at The Hotel School.  After visiting the campus, it was her conversation with an SHA Ambassador that convinced her to apply The Hotel School.
While at SHA, Hailey has taken advantage of several F&B related classes, clubs and jobs.  Ironically, it was a Food Science course in the Ag School that kicked off her culinary journey in Ithaca.  After that Hailey especially excelled at her beverage courses and eventually became a Teaching Assistant for Professor Doug Miller (beers) and Professor Cheryl Stanley (wines).  Outside of the classroom, Hailey founded the Food and Beverage Society, a social media driven club that attracted guest speakers to address students online during COVID.  During the summer Hailey has worked at Wings Over, the Button Grove Winery, and EJ Gallo, as well as holding a remote internship with Lettuce Entertain You.
Hailey has taken full advantage of the Hotelie network and has thoroughly enjoyed her experiences with alumni.  She was fortunate enough to attend the CHS EMEA Chapter event in Rome, Italy during the spring of 2022, and then traveled to New York to attend the SHA 100th Anniversary Banquet.  At the 100th anniversary event she was very impressed seeing the hundreds of Hotelies that traveled to NYC to honor one of their own – Elizabeth Blau '97.  All these experiences have motivated her to continue her connections with SHA after graduation, and return to Ithaca to share her knowledge in the future.
Picture below:  Hailey (far left) attending the CHS EMEA annual regional meeting in Rome, April of 2022.
* * *
The Cornell Hotel Society and Cornell Hotel Foundation congratulate Caleb, Hailey, and Jason, and welcome them to the Hotelie for Life® network. These interviews were conducted by Robert Mandelbaum '81.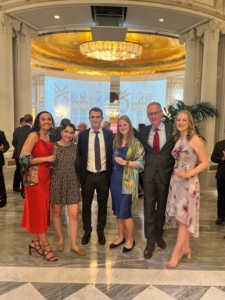 https://cornellhotelsociety.com/wp-content/uploads/2022/09/hailey.jpeg
300
300
Robert Mandelbaum
https://cornellhotelsociety.com/wp-content/uploads/2020/10/CHS-Logo-256x118-1.png
Robert Mandelbaum
2022-09-11 12:16:14
2023-04-29 16:41:00
2022 Philippus Miller III '83 Legacy Award Winner – Hailey Nelson '23