JT Baker '21 – Philippus Miller III '83 Hotelie for Life® Prize Winner
In 2020, the Cornell Hotel Society (CHS) Hotelie for Life® Senior Prize was named in honor of Philippus Miller '83, longtime director of alumni affairs at the Hotel School and founder of the executive search firm Philippus Miller III and Associates.  Phil was famously known for facilitating relationships among Hotel School students, faculty, and alumni.  He was the consummate Hotelie – a people-person dedicated to serving others.
JT Baker '21, the winner of the 2021 Philippus Miller III '83 Cornell Hotel Society (CHS) Hotelie for Life® Senior Prize, is also a people-person.  It all started at the Sunnyside Café, his family's restaurant in Minneapolis.  "Growing up with two parents in the restaurant business, you would think I am a foodie.  The truth is I can't cook, but I did fall in love the hospitality ethos and providing service to our customers," said JT.
At age 13, JT and his family took a trip to Las Vegas.  Driving down The Strip, JT was wowed by the grandeur of the casino hotels.  "Who owns these hotels?", he wondered.  "One day I want to own a hotel."
JT was a star football player in high school and recruited by several colleges across country.  During his recruiting trip to Cornell, one of the coaches innocently asked the question, "What do you want to do in life?".  JT responded, "I want to own a hotel."  The coach immediately stopped the interview and proceeded to walk with JT from Schoellkopf Hall to Statler Hall.  JT did not know that Cornell was home to the world's best university hospitality program.  From that point on, JT was committed to attend Cornell regardless of making the football team.
To say that JT made the most of his time at Cornell is an understatement.  Under the guidance of the Entrepreneur in Residence Phil Miller, JT used his great interpersonal skills to form relationships with his fellow students and members of the faculty.
Two of JT's early faculty mentors were Professors Andrew Quagliata and Jan DeRoos.  JT first met Professor Quagliata the summer before his freshman year while attending the Hotel Operations Program on campus.  Professor Quagliata teaches Management Communication and likes to challenge his students.  He took JT aside and told him, "if you work hard, I'll help you get the most out of your experience at Cornell."
If JT wanted to own a hotel, then he knew he needed to succeed in Professor DeRoos' real estate class.  Accordingly, JT, along with football teammate Eric Gallman '21, took the time to meet as frequently as possible with Professor DeRoos.  Professor DeRoos acknowledged the disadvantages JT and Eric had as young African Americans that had attended high schools with limited excel training resources.  However, he assured them they could be at the "top of hotel real estate game."  JT was inspired not only by Professor DeRoos' message, but by the personal time commitment he spent with himself and Eric.  This changed JT's perspective on how beneficial his Cornell experience could be if he took advantage of all the resources available.
From his freshman year on JT began to expand his relationships with university administrators, alumni, and industry executives.  While attending a high school event JT received a business card from Kevin Warren with the Minnesota Vikings.  At that time, Mr. Warren was the highest ranking African American executive with an NFL team.  On his own initiative, JT reached out to Mr. Warren and was able to land summer jobs summer jobs with the Vikings after his freshman and sophomore years at Cornell.  Under the tutelage of Mr. Warren, JT not only learned about the business of sports management, but also worked directly on a big mixed-use real estate project developed by the Wilf family (owners of the Vikings) next to the team's new training facility in Eagan, MN.  The project included a 310-room luxury hotel.
On campus, JT added to his classroom and football commitments by winning a campus-wide election to serve as a student representative on the University Board of Trustees.  While serving on the Board of Trustees, JT was able to form relationships with prominent Hotel School alumni like Richard Baker '88, Lee Pillsbury '69, and Andrew Tisch '71.  He also was able to establish personal connections with Cornell President Martha Pollack and Marriott CEO Tony Capuano '87.
During the summer of 2020, COVID prevented JT from holding any in-person internships.  However, he took advantage of the opportunity to work remotely and tackled three opportunities.  One was with Kevin Warren, who moved on from the Vikings to become Commissioner of the Big 10.  JT's association with Trustee Richard Baker '88, Executive Chairman and CEO of Hudson Bay Company, gave him some exposure to the real estate side of the retail industry.  Finally, JT landed a remote internship with JP Morgan.
Prior to his summer experience with JP Morgan, the thought of working on Wall Street after graduation was not on his mind.  However, during his brief time with JP Morgan, JT was exposed to the finance side of the real estate industry and liked it.  Fortunately, his strong performance led to an offer for permanent employment after graduation.  JT will be joining JP Morgan in Manhattan during the latter part of the summer of 2021.
Since graduating, JT achieved another great accomplishment.  In June of 2021 he was admitted to the Harvard Business School.  Harvard has given him a two to six year window to work in industry, and then enroll in graduate school when he is ready.  "I initially did not think about attending graduate school, but the offer to attend HBS was just too good an opportunity to pass on," noted JT.
As a graduate of the Hotel School, JT wants to live the life of a Hotelie as demonstrated by Phil Miller.  "I'm constantly amazed at how busy Hotel School alumni professionals take the time to help others.  Hotelies develop into selfless leaders that make the experiences of others better, both professionally and personally," said JT.
Upon arriving in Ithaca, JT quickly noticed that he was one of very few African American students in the Hotel School.  Based on his positive experience at Cornell, it is JT's goal as an alumnus to become successful in the real estate industry, and then use his resources to open the door for more black students to study hospitality and real estate.
"I've told President Pollack that Cornell changed my life.  The University is at its best educating students, especially those who come to campus with limited resources and are in need of extra assistance.  Ultimately, if we can educate a diverse student body, that will reduce the incidences of racism going forward," JT concluded.
Like Phil Miller, there is no doubt that JT will use his strong personal skills to establish relationships that he can leverage to serve others and make their lives better.  This is the essence of being a Hotelie for Life®.
* * *
The Cornell Hotel Society and Cornell Hotel Foundation congratulate JT, and wish him the best of success on his journey as a Hotelie for Life®.  This interview was conducted by Robert Mandelbaum '81.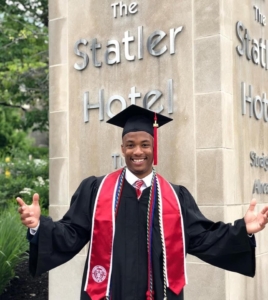 https://cornellhotelsociety.com/wp-content/uploads/2021/08/JT-1.jpg
960
858
Robert Mandelbaum
https://cornellhotelsociety.com/wp-content/uploads/2020/10/CHS-Logo-256x118-1.png
Robert Mandelbaum
2021-08-04 22:47:29
2022-08-11 01:06:19
JT Baker '21 – Philippus Miller III '83 Hotelie for Life® Prize Winner