Our Cornell Hotel Society (CHS) global community mourns the shocking and untimely loss of another consummate Hotelie, an iconic leader and true hotelier, Roberto E. Wirth class of 1975. He was 72.
Roberto continued the legacy of his family's Swiss hotelier roots in Rome, his favorite city in the world. As Owner and General Manager of the iconic Hotel Hassler, proudly seated at the top of the Spanish Steps, he welcomed royalty and heads of state, international celebrities and distinguished travelers during their stay in Rome. His authentic hospitality, genuine care and signature attention to detail made him the ultimate Roman hotelier that he'll always be remembered for.
Besides the Hassler and Il Palazzetto, located adjacent the Spanish Steps, Roberto's other "gems" are sprinkled across Italy's verdant heart in Umbria and Tuscany – Hotel Vannucci, Parco del Principe and Borgo Bastia Creti – enriching the countryside with his signature sparkle and keen sense of luxury.
Born profoundly deaf, Roberto dedicated much of his life giving back to help deaf and deafblind children. Through his foundation CABSS, he provided support to babies, small children, and their families in Italy and around the globe with tools to face a world not designed for them. As President of CABSS, he provided an inspiring example to these children that "Nothing is Impossible" – his personal motto – and that a deaf person can achieve such extraordinary things, like "guide the ship" among the world's most fascinating hotels, communicate with guests in a variety of languages, and lead staff to set the standard for luxury hospitality.
Roberto was a proud and active member of the Cornell Hotel Society. Members recall with vivid memory the European chapter meeting he organized in Rome in 1982. In words by CHS historian Leif Evensen '66 from the CHS bulletin at the time: "Roberto Wirth '75 co-hosted our Rome meeting together with Villa Banfi. Our thanks to Roberto for an excellent meeting, well-organized from our red-carpet welcome to our departing "arrivederci." He continues, "It was a super weekend and I'm sure that the Hotel Hassler was glad to have Roberto's full attention after our departure."
Roberto was also a key member in the creation of the CHS chapter in Italy, which ultimately became the AlpAdria & Eastern Europe Chapter during the famous meeting in Merano, Italy. Roberto remained honorary President of the chapter, kept abreast of its activities and participating when possible. He joined us in 2015 at a special dinner held at Palazzo Rospigliosi during an AA&EE Chapter Meeting in Rome, and more recently he was the gracious host of our Welcome Cocktail kicking off our recent CHS EMEA Regional Meeting in Rome this past April.
Over the years, Roberto has been recognized for his achievements and contributions to hospitality leadership and innovation and his philanthropic efforts toward organizations for the deaf.
In 2005, Roberto received the prestigious Independent Hotelier of the World award.
He has received honorary degrees from Lynn University, Boca Raton FL (2006), Gallaudet University, Washington DC (2009) and John Cabot University, Rome (2016).
He was also one of eight deaf recipients of the Deaf Nation Inspiration Award (for Hotel Hospitality) in 2012.
In 2014, he was awarded the Leading Legend award by Leading Hotels of the World.
In 2018, he received a special award from the United States Ambassador to Italy Lewis M. Eisenberg, on the occasion of the 70th anniversary of the Fulbright Program in Italy, the "Fulbright – Roberto Wirth" scholarship . Also in 2018 he received a special career award during the "Golden Lion for Peace" event, at the Sala Regina of the Chamber of Deputies.
In 2020 he received, from the Lions Club Padova "Galileo Galilei", the highest lionistic honor "Melvin Jones" for his commendable commitment and dedication to the deaf community around the world.
His children, Robert Jr. and Veruschka, now take on the overwhelming task of continuing their father's legacy at a time when the hotel landscape in Rome is in a state of flux. It will be a test of resilience and vision but I have no doubt that Roberto prepared his children well to be up for the challenge.
I feel so fortunate that our global CHS community was able to raise a glass together with Roberto this past April in Rome. Gathered in the shade of the Spanish Steps, he welcomed us to his home and shared with us his signature hospitality. Roberto will continue to inspire us through his legacy, reminding us that "Nothing is Impossible".
—
Jonathon Dominic Spada B.S. '10
CHS Regional Vice President – North Europe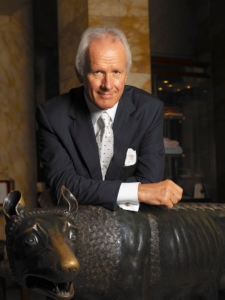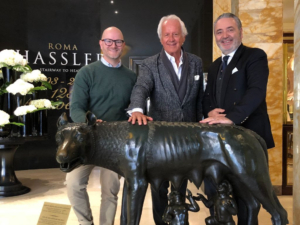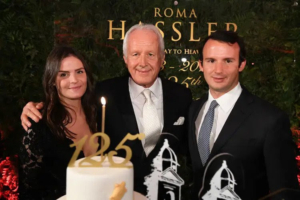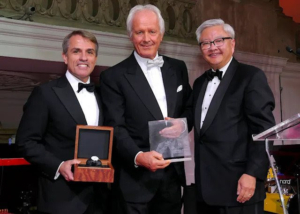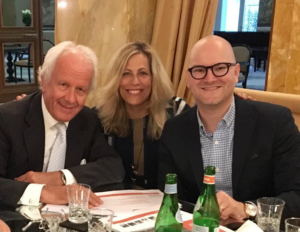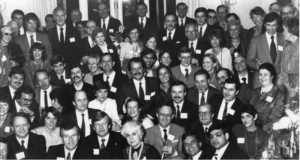 https://cornellhotelsociety.com/wp-content/uploads/2022/06/286427760_10107910833642765_5869093148906727482_n.jpg
1080
810
Robert Mandelbaum
https://cornellhotelsociety.com/wp-content/uploads/2020/10/CHS-Logo-256x118-1.png
Robert Mandelbaum
2022-06-26 15:48:27
2022-06-26 15:53:52
Roberto E. Wirth '75