Christina Gioioso '24 2023 Philippus Miller III '83 Legacy Award Winner
In 2019 the Cornell Hotel Society established the Philippus Miller III '83 Legacy Award.  The award was designed to recognize and celebrate Phil Miller's legacy as a builder of networks and relationships.  For decades Phil was the heart of the Cornell Hotelie for Life® that is the foundation of the Cornell Hotel Society (CHS).  The award is given to students that demonstrate an understanding of the spirit of Phil Miller – the importance of connecting and giving back.
The winner of the award in 2023 was Christina Gioioso '24.  Below we share Christina's story.
About Christina Gioioso '24
Growing up, Sunday pasta with family and friends was a staple at the Gioioso household. As grandma said, "there is always room at the table for guests." This laid the foundation for Christina's love of hospitality and service.
With both parents and a sister graduating from the Cornell School of Engineering, it was not a surprise that Christina wound up in Ithaca.  However, given her sociable nature, her parents suggested she explore the Hotel School.
Christina visited the Cornell campus several times, but it was her pre-admission visit to Statler when she knew the Hotel School was the place for her.  Christina had lunch at the Terrace Restaurant with Claudia Wood '23, her student ambassador, and subsequent mentor. During lunch she was wowed by the social and hospitable environment.  "Everyone knew everyone. It made a very favorable impression."
Unfortunately, by the time Christina entered Cornell in the fall of 2020, COVID had impacted the Statler experience.  Unable to gather in the classroom, it was very difficult to get to know her fellow Hotelies.  It was not until her sophomore year that she fully felt the buzz and camaraderie of the Hotelie community.  She served on the HEC Sales Team in 2022 and hopes to bartend during the 2023 HEC.  She also works in the Hotel School Office of Student Services where she is able to foster relationships with students and visiting alumni.  Outside of Statler, Christina serves as the Co-President of the Cornell Society for Women in Business. In this role she has mentored younger Hotelies, an homage to the mentoring she received from her two sisters, and countless Hotelie upperclassmen and alumni.
Prior to coming to Cornell, Christina worked as a lifeguard / member service agent at a local private club outside of Boston.  During her college summers, her professional experiences have focused on real estate and finance.  In 2022 she worked for Fidelity Asset Management in Boston.  During the summer of 2023 she will be working in the Asset Management Division at Goldman Sachs in New York.  She greatly enjoyed taking classes with Professor Dave Roberts (Introduction to Hotel Operations) and Professor Peter Liu (Principles of Real Estate), both of which contributed to her career interests.
Christina did not have the pleasure of meeting Phil Miller but has enjoyed meals in Ithaca with Phil's widow Yasamin and other Legacy Award winners.  Because of these experiences, she has gained an understanding of Phil's appreciation for being a Hotelie for Life®.  For Christina, being a Hotelie for Life® means, "a commitment to fostering connections, lending a hand, and not expecting anything in return." She plans to continue to live this ethos after graduation.
Below is a picture of Christina (right) with her two sisters – Stephanie (left) and Katie (middle).  They were attending Katie's Cornell graduation.
* * *
The Cornell Hotel Society and Cornell Hotel Foundation congratulates Christina and welcomes her to the Hotelie for Life® network. This interview was conducted by Robert Mandelbaum '81.  As part of her award, Christina will be attending the CHS EMEA Annual Regional Meeting in Amsterdam in March 2023.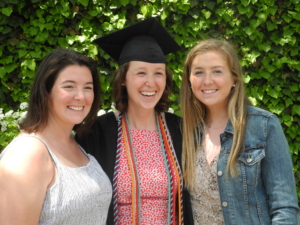 https://cornellhotelsociety.com/wp-content/uploads/2023/03/IMG-0711-1-Edited.jpg
2077
2077
Robert Mandelbaum
https://cornellhotelsociety.com/wp-content/uploads/2020/10/CHS-Logo-256x118-1.png
Robert Mandelbaum
2023-03-12 21:54:39
2023-05-17 01:24:16
Christina Gioioso '24 2023 Philippus Miller III '83 Legacy Award Winner