ROMA 2022 – EMEA Regional Meeting
The CHS ALPADRIA & Eastern European chapters hosted the 2022 annual EMEA Regional Meeting in Rome on April 7 through 9.  As always, the event was full of insightful educational events, great food and beverage, and lots of Hotelie comradery and fellowship.  This year's theme was Vision, Hospitality, Leadership.
The event kicked off with a Thursday night reception on the iconic rooftop terrace of the Hotel Hassler overlooking the Spanish Steps.  Special thanks to host Roberto Wirth '75.
A Hospitality Summit took place on Friday at the Hotel Quirinale.  The morning was full of multiple informative sessions:
Italian Market Snapshot
Operations Panel: "Hospitality & Lifestyle: The Future is Full-Touch"
Presentation: "Lessons Learned, Lessons to Follow: Family Business in Italy"
Presentation: "The Great Resignation: Where are the leaders in these challenging times?"
Presentation: "Natural Yeast, Natural Growth, Natural Partnership"
Development Panel: "All Roads Lead to Rome 2025"
The afternoon featured multiple specialty workshops:
Mani in Pasta: Get Your Hands Dirty the Italian Way
Beyond the Forecast: Discriminating Data to Sharpen Focus
BMS, RMS, and IMS: How Blastness uses Big Data & AI to Boost Direct Bookings
Appreciating Italian Wine
Friday ended with a special Industry Dinner at Domitian's Stadium.  This unique venue is hidden below Piazza Navona, among the ruins of Stadio Domiziano, one of ancient Rome's largest, central chariot racing tracks.
Saturday started with the annual CHS Regional meeting followed by an afternoon of sightseeing throughout Rome.
The conference ended with the traditional Saturday night Gala Dinner and Scholarship Auction.  The banquet was held in the Salone Ritz at the St. Regis Rome.  The Salone Ritz was the first public ballroom, opened in 1894 by legendary hotelier Cesar Ritz himself.  This famous room has hosted heads of state, royalty, and international glitterati for more than a century.
A very special thank you to event organizer Jonathon Dominic Spada BS '10 and his organizing committee:
Roberto Wirth BS '75
Palmiro Noschese GMP '19
Sarah Livingston BS '10
Elena Benedetti PDP '15
A special video capturing the essence of the event can be found here:
Roma 2022 | Cornell Hotel Society Annual EMEA Regional Meeting – YouTube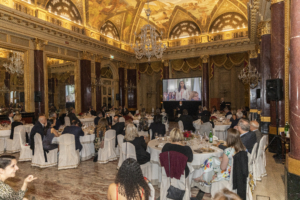 https://cornellhotelsociety.com/wp-content/uploads/2022/04/Group-Picture-scaled.jpg
1707
2560
Robert Mandelbaum
https://cornellhotelsociety.com/wp-content/uploads/2020/10/CHS-Logo-256x118-1.png
Robert Mandelbaum
2022-04-30 14:08:11
2022-04-30 14:10:40
ROMA 2022 – EMEA Regional Meeting