"Conversations with Alumni" – Leo Krusius '05
Matthew Stern '20 had the chance to interview Leo Krusius '05, Principal – The Carlyle Group.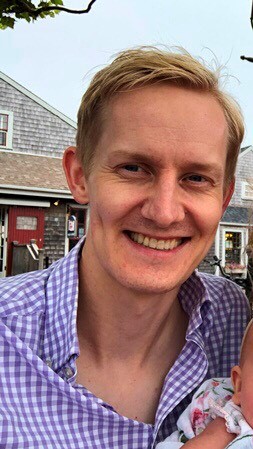 Would you mind telling me more about your career path?
I got my start in the business working some summer jobs in high school at local hotels where I grew up. I found those to be pretty fascinating even though they weren't in overly exciting functions like housekeeping to working at a restaurant to conference services. I just enjoyed the inner workings of hotels but really there was no goal to get in that space before I found those jobs. I always knew I wanted to get into something business related, so combining my experience and interest in what I had been doing in the summers seemed like a good fit for me. That's how I honed in on the Hotel School.
When I was there, I enjoyed having the opportunity to be educated in a wide variety of topics. I knew I didn't want to do marketing or human resources, but I really enjoyed the coursework and learning about those. I didn't discover an interest in real estate until taking the Principles of Real Estate course on a whim once I got into my junior year and had more time to take electives. That coursework opened up my eyes to the possibility of a career in real estate, which I pursued by doing an internship at Prudential Real Estate Investors. I worked on various deals in a couple of different funds that they had, all with different business plans and risk-return profiles. This exposed me to the real estate investing process, how creative it is, and how much analysis is involved.
Upon coming back to school, I didn't really find a lot of opportunities in that area. And a common refrain that I kept hearing was investment banking is really where you'll learn hard skills that you can utilize to better tap into the real estate investment business. My focus was on something more private equity related since I wanted to do deals in the hotel space, and Prudential and other core buyers usually don't allocate much capital there. So, I went the banking route and worked in that area for about a year and a half focusing on real estate company transactions. This was back in 2005 and 2006 when we were in the REIT privatization boom, meaning I did a lot of valuation work. That experience positioned me to obtain a principal investing role with Carlyle in early 2007. I have been there ever since and enjoy every day at Carlyle, where I'm afforded new opportunities to learn and grow.
 Were there any major decisions that you made while at Cornell that have really impacted your career path?
As I mentioned before, it was deciding to take the Principles of Real Estate course that really set me on my current path. I didn't have a particular inkling to get into real estate before taking that course. But again, I think that speaks to the opportunity that Cornell and particularly the Hotel School provides — that you can pursue education in any number of areas. And if you are willing to do that, and you take initiative to better yourself and develop a well-rounded knowledge base and skillset, you don't know what you'll find.
What does your day to day look like at Carlyle?
When I'm in the office, I spend the early part of the morning reading newsletters, daily articles, and e-blasts related to my areas of interest.  After that, I catch up on emails and voicemails from the morning or day before. Then, the collaborative part of my day starts with meetings with the teams I'm working with on new deals or portfolio deals, or meetings with peers to strategically think about how and where we should be investing. Those meetings and calls typically last through the end of the day before I try to wrap up on what I may have missed earlier in the day from those meetings.
I'm also on the road quite a bit seeing properties and meeting with key people in my targeted investment areas. Real estate is a local business, and you have to be out in your markets and talking to your contacts to make sure you've got your finger on the pulse.
What is your favorite part of your job?
At Carlyle, we have a really flexible mandate in terms of how we invest into real estate and what types of real estate that we invest in. We spend a lot of time thinking creatively to identify themes that we can orient our investment strategies around. That's a process that I really enjoy and it's produced successful areas of investment for us. For example, earlier this cycle we believed that the global financial crisis resulted in an under production of quality apartment housing units. When we looked at population growth, household formations in the younger age cohort, and maturation of the older US population, we found a major imbalance in supply and demand. We then invested into a lot of new apartment buildings where we saw good demand and rent growth, as well as value appreciation that we were able to turn into good returns.
More recently, we've been investing in properties that benefit from the growth in e-commerce. We think this space continues to grow and make up a larger share of overall retail sales. As a result, we've been investing in warehouse distribution facilities in major markets and more niche properties that facilitate the flow of goods through the e-commerce supply chain. That's an area where I'm currently spending a lot of my time, and it's a consequence of the creative process and research-driven approach that we have at Carlyle.
What is your take on the current state of the real estate market?
We're late in the cycle. Supply and demand fundamentals are under pressure and a lot of sectors and geographies are seeing slowing rent growth at the same time that expenses are rising from inflationary pressures. Additionally, cap rates are low and thus valuations are high. The combination of lower NOI growth and lower cap rates makes for a lower total return environment when really the risks are elevated. It's tough to find good properties to invest in and feel good about, but there certainly are attractive opportunities to invest in, provided that you've done your homework and you're buying into good locations at reasonable prices.
Is Carlyle looking to reduce exposure to certain asset types or markets based on what you've mentioned?
We're under-allocated to properties in the office and the retail sectors. That's not to say that there are no attractive deals there; we just find that there are better fundamentals in some of the other sectors like apartments, senior living, industrial, and self-storage. You can feel better about the yields in those sectors because you've got more certain NOI growth that also may be less tied to the overall economy than office and retail.
What are some highlights of your Cornell (or Hotelie) experience?
A big highlight for me was the experience of the Hotel School, where you you're learning, growing, and collaborating with a very tight knit community, as part of the broader Cornell, where you're able to supplement your education with courses from a wide variety of studies. That made for a wonderful and enriching educational journey. With so many different areas of study, Cornell also has a really unique and diverse student base.  I met a lot of lifelong friends there, including my wife, who I feel blessed to have had as part of my Cornell experience and to have in my life today.
If you could go back in time and pursue a different career path, what would you be doing instead?
It would probably be something technology related. I can't say in exactly what capacity, but my dad was a professor of electrical engineering. I always enjoyed tinkering with the new devices he would bring home for us to experiment on to see how they worked. These were cell phones, video game consoles, PDAs, you name it. Nowadays, technology, whether it's hardware or software, is pervasive in our lives. Since those tinkering days with my dad, there have been immeasurable exciting innovations that have come about and disrupted established industries and made our lives easier. Being a part of something truly innovative and creative would have been really exciting. But I'm happy where I am and actually, I think a lot about technological trends. Specifically, how they impact the types of real estate I invest in and how it can create opportunities.
What is some advice that you would share with Hotel School students like myself looking to work in and add value to the real estate investment industry?
First, take initiative. Nothing will fall in your lap. Pursue your career interests academically. Support those studies with coursework that rounds out your skillsets and broadens your perspective. We spoke about it a bit earlier, but don't just be a numbers guy. Learn how to think critically, and practice communicating and being persuasive.
Second, talk to your professors about what else you can be doing to position yourself for a career in their field of study. They are definitely resources to leverage and establish connections with.
Third, reach out to alumni in your area of interest and set up informal calls and meetings with them to pick their brain. I find Cornell alumni to be very engaged with the broader Cornell community and eager to help out.
Lastly, don't be complacent once you're in the business. Stay informed on what's going on in the market and maintain the connections you've developed with your classmates, professors, and people that you work with. It's a small world out there, you never know when you're going to run into somebody again.
* * *
The Cornell Hotel Society Executive Board thanks the Cornell Hotel Society – Collegiate Chapter for initiating and conducting the "Conversations with Alumni" project.
https://cornellhotelsociety.com/wp-content/uploads/2018/12/Leo-Picture-border-e1565861668236.jpg
174
277
Robert Mandelbaum
https://cornellhotelsociety.com/wp-content/uploads/2020/10/CHS-Logo-256x118-1.png
Robert Mandelbaum
2019-08-15 09:35:23
2020-11-16 21:11:46
"Conversations with Alumni" – Leo Krusius '05