Third Annual Dubai Lodging Outlook 2018 Seminar
On September 10, 2017, Cornell Hotel Society, MENA Chapter, hosted the 3rd Annual Dubai Lodging Outlook 2018 Seminar at Fairmont The Palm, Dubai.  The morning seminar started off with a macroeconomic overview and forecast presentation by Mohamed Abu Basha, Director, Head of Macroeconomic Analysis, at EFG Hermes, a prominent investment bank in the region.  Abu Basha's presentation was followed by a presentation by Sarah Duignan, Director of Client Relationships at STR.  Sarah highlighted the region's key lodging trends in addition to STR's forecast of key metrics for Dubai.  The seminar was concluded with a panel discussion titled "The Impact of New Supply on Revenue Management Practices", which was moderated by  Tarek M. Daouk '01, Founder and Managing Partner at Smartotels Hospitality International.  The panelists included: Sarah Allen, Vice President, Revenue Management, Middle East & Africa, Marriott International; Ali Manzoor, Associate Partner, Hospitality & Leisure Development Consultancy, Knight Frank Middle East; Andrew Boocock, Area Sourcing Manager, GCC & Levant, GTA Travel; Judith Cartwright, Senior Vice President Global Revenue Management & Distribution, Kerzner International; and, Philip Wooller, Area Director Middle East & Africa, STR.  Attendance at the event increased by 14% y-o-y, totaling 150 attendees.  Chapter co-President, Aditya Rajaram MMH '11 led the planning the of the event, supported by co-President Tarek M. Daouk '01 and a team at STR.  The event was sponsored by Fairmont The Palm and PSAV.
The event raised around $2,900 USD which will be donated to the EMEA scholarship fund program.  Adi and Tarek would like to thank everyone who helped support the event.  The chapter looks forward to hosting this event in future years.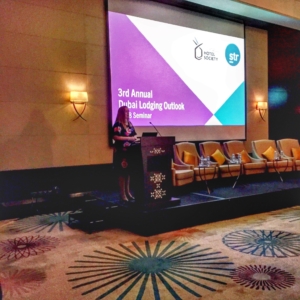 Share