Hotelie Joins Exclusive Ranks of Master Sommeliers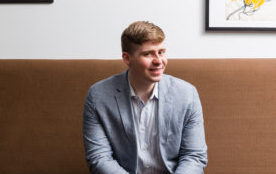 Jack Mason '11 didn't always want to be a Master Sommelier, which makes his achievement — joining the ranks of only 229 Master Sommeliers worldwide before the age of 30 — so remarkable. Indeed, Mason originally enrolled in the Culinary Institute of America with dreams of someday opening his own fine dining restaurant. However, dreams evolve, especially when they're helped along by the Cornell Hotel Society.
The partnership between the School of Hotel Administration and the Culinary Institute of America was instrumental to Mason's journey. This partnership exists so that future restaurateurs can develop impressive culinary skills at CIA while they simultaneously learn how to implement those skills through the strategic business and hospitality techniques taught at Cornell. Despite the fact that the majority of the students in this program begin at SHA and take supplementary courses at CIA, Mason learned of this program while in his second year at the Culinary Institute. He quickly enrolled. It was during a required beverage course that Mason first tasted the intoxicating excitement of wine connoisseurship.
A year later, during Hotel Ezra Cornell, Mason met SHA alumni Greg Harrington while Harrington hosted a beverage class at a CHS event. Increasingly curious about the beverage side of the food industry, Mason took initiative and invited Harrington to lunch. There, he asked questions and gleaned insight into the world of wine. Over time, their back-and-forth developed into an invaluable mentorship as Harrington encouraged Mason toward becoming a Master Sommelier. Harrington provided Mason with wisdom and advice as Mason began to pursue his Master Sommelier title.
However, it wasn't only this mentorship that equipped Mason with the skills needed to achieve his title. When asked about what stood out to him about his time at SHA, Mason was quick to point out the community that so easily forms, enabled in part by CHS. He believes that these Hotelies mesh so well due, in large part, to their similar DNA: driven, hospitality-focused, group-oriented, and able to operate at an optimal level. Furthermore, the environment SHA creates — group-oriented projects that allow students to work together in real-world scenarios — allows Hotelies to learn how to push each other and when to encourage one another.
Perhaps best of all, though, is that this community tends to last long after school ends. Of these relationships, Mason says, "It's cool to see how close and small the network of Hotelies can be, especially here in New York." And Mason has been an integral part of this community, especially as he has now had the opportunity to pass on what Harrington offered him as Mason now is able to contribute to fellow Hotelier Sam Appel's new venture. Mason's advice to current students is simple: follow his lead and capitalize on the relationships that not only can but should be built through CHS! Fellow Hotelies are the ones who can help dreams evolve and turn them into reality.
As for Mason, he hopes to soon open his own high/low restaurant: high-quality ingredients paired with an amazing beverage program, but in a more laid back atmosphere than most formal restaurants. Be on the look out for this rising star that Forbes recently named one of their "30 Under 30"!
Share